The historic school building in Garcia has been added to the list of endangered places. Learn more about what this means for our District by watching:
https://youtu.be/irtAiMLuoiw
Or reading the terrific articles this week in the Free Press and La Sierra.
Due to negative temperatures overnight tomorrow night, the homecoming bonfire will be rescheduled for a later date
Centennial Rams the school will be on a two hour delayed start tomorrow 2/16/2023 due to below freezing temps and road conditions. Buses will run accordingly.

Centennial School Community after much discussion it has been determined to send students home and cancel school for the day due to the current and forecasted weather conditions. The decision to hold school was made based off several factors including surrounding school districts, what the weather was at the time of decision and weather predictions. As an admin team the time of 5:30 am was determined to be the time for making the final decision as we have bus routes that start at 6:00 am. At that time no precipitation was happening. The district does not take making these decisions lightly and never has any intention of putting students and staff at risk. We apologize for any inconvenience this decision may cause and know that canceling school for the day is the best decision at this point in time. The district will be loading students back on the buses at 9:00 am to be sent home. School will be canceled for the rest of the day as well as all school-sponsored events, including basketball, cheer, and homecoming practices and activities.
Good evening Ram fans. Our homecoming basketball game scheduled for Friday, February 17 vs. Creede has had a time change. The game will begin at 4 o'clock. Our last regular season game will be in Moffat beginning at 5 o'clock on Saturday, February 18. Come out and support our teams.

Good morning Centennial families, tonight's District Accountability Committee (DAC) will be rescheduled for Wednesday, February 22. We apologize for the inconvenience and look forward to welcoming new members. Join us on the 22nd at 5:30p to share your voice and impact key district work.
Homecoming dress up days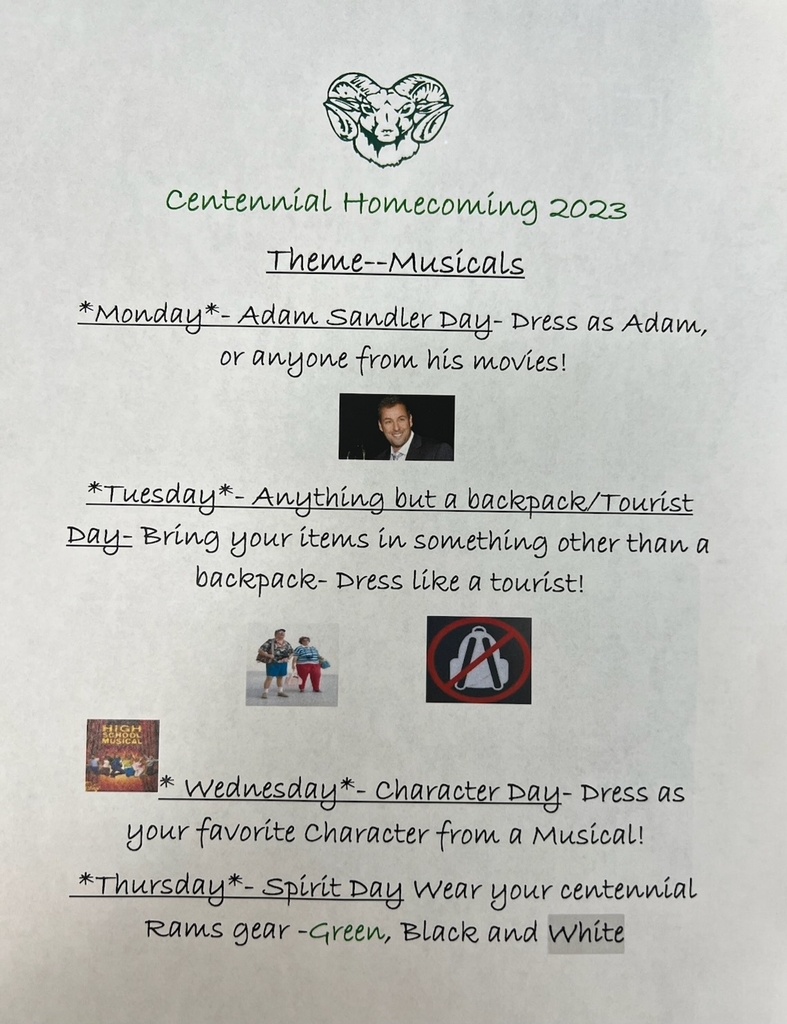 Centennial Families there will be no after school tutoring today 2/8 or tomorrow 2/9 we apologize for any inconvenience.

Good evening, for any 6-8th grade students interested in wrestling, cone to meeting in the wrestling room on February 9 at 3:30 (during Parent/Teacher Conferences).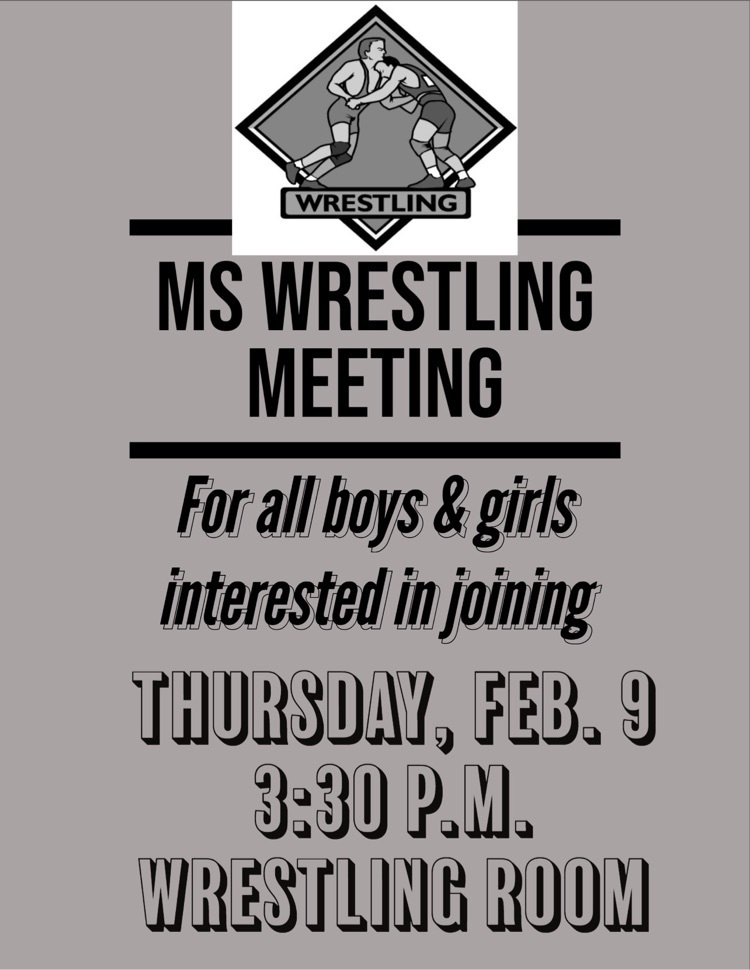 Hello everyone, Families who receive government assistance can receive a free tablet with one year paid internet. Please see attached flyers. Please contact Christina at 719.580.7932 for questions. Thank you, Carol Gurule Area Extension Agent, 4-H Youth Development, San Luis Valley Area Juntos-Together For a Better Education!/Para Una Mejor Educacion! 1899 U.S. 160 E. P.O. Box 30 Monte Vista, CO 81144 o: 719.852.7381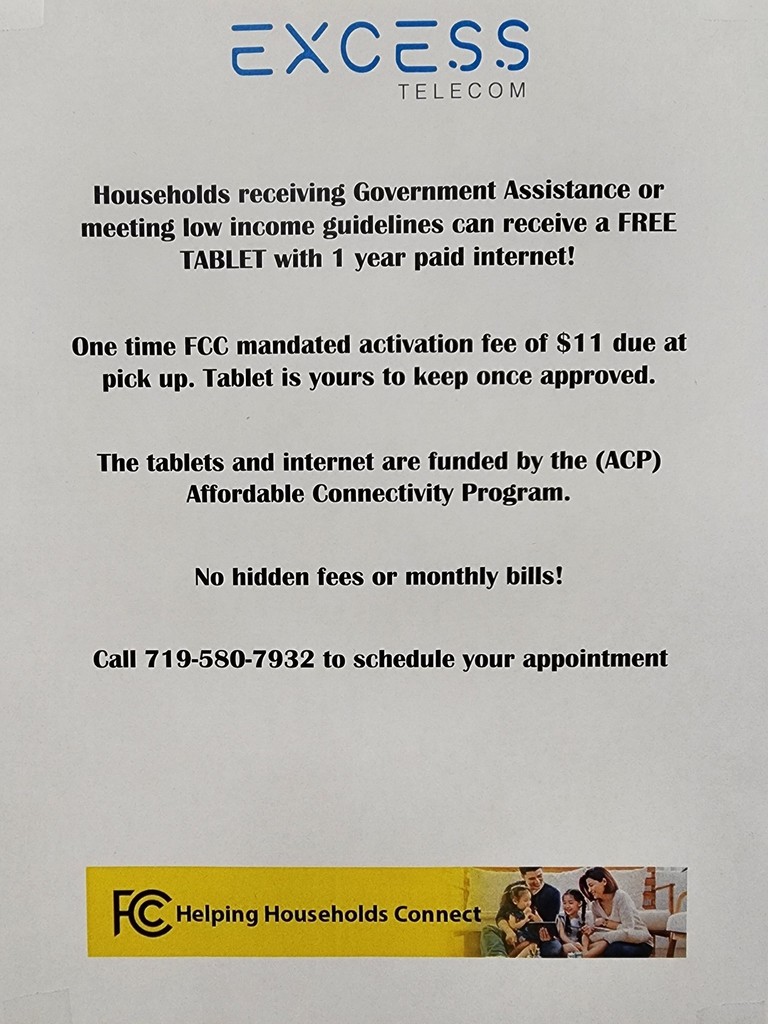 Centennial families there will be no after school tutoring today 2/2 we apologize for any inconvenience.

Good Afternoon, Centennial. The Board of Education and CEA will continue negotiations this Friday, February 3rd, at 10:00 am. A Zoom link will be sent out on Friday at 9:50 am.
Good afternoon Ram fans. High school basketball teams will host Cripple Creek-Victor tonight at 4:30 p.m. This is Parent Night. Athletes will be acknowledging their parents between the Girls and Boys games tonight.

Hello Ram fans. There will be a middle school girls basketball game today at 4:30 vs. Del Norte. Wrestlers will attend the All-Valley Classic on January 27 and 28th in Center. High school basketball teams will play at Sangre on Saturday, January 28 beginning with JV Boys at 5:00 p.m.

Good morning Centennial families! The Board of Education will be conducting the Regular School Board Meeting on the 26th day of January at 6:00 PM. This meeting will be in person/virtual. If you wish to join via zoom the link will be sent out Thursday at 5:45 PM.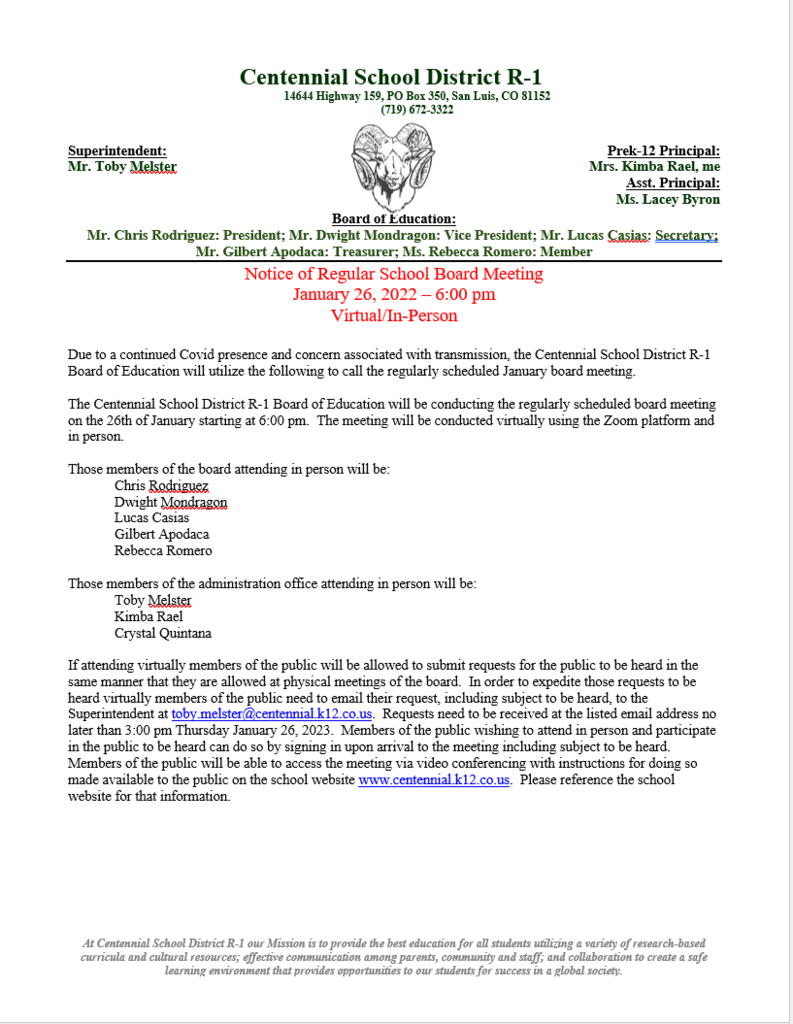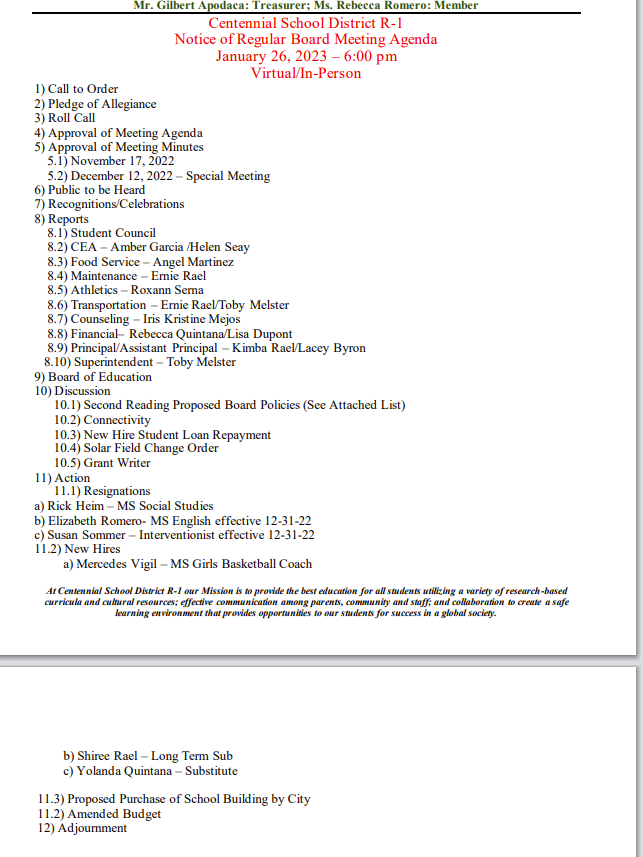 Please use the following Zoom link to join today's negotiations session. Centennial Education Association is inviting you to a scheduled Zoom meeting. Topic: 1/23/2023 Negotiations Time: Jan 23, 2023 04:30 PM Mountain Time (US and Canada) Join Zoom Meeting
https://us05web.zoom.us/j/83760711709?pwd=SCtSWjhoT1hBa0VzZzhUMnpxOS90Zz09
Meeting ID: 837 6071 1709 Passcode: rt8rwX

Good Afternoon Centennial, CEA and the Board of Education will continue negotiations tomorrow, Monday, January 23, 2023 at 4:30 pm. A Zoom link will be posted tomorrow at 4:20.

A tremendous effort was not enough today as the Rams fall in the championship to 4A DSST Byers 60-52. The boys appreciate all the love and support they received over the last 3 days! Congratulations to captains Diego Romero and Devon Vigil for earning all tourney accolades. Centennial will look to bounce back in their first league matchup of the season vs Sangre next Friday. Go RAMS!!!