Good Afternoon! The Board of Education and the Centennial CEA are continuing negotiations tonight at 4:45 PM. Please look forward to the zoom link that will be sent prior to the mtg. AG
Good morning Ram Fans. Centennial Lady Rams are playing for District Championship today at 2:00 p.m. Game will be at Plachy Hall at ASU. Come and show your support for your Lady Rams!

Come support our Lady Rams in their next District game against Sierra Grande. 6:00p, Friday, February 25 at Adams State. Admission is $8 for adults/ $6 students k-12. Parking is $5 at Plachy Hall. Go Rams!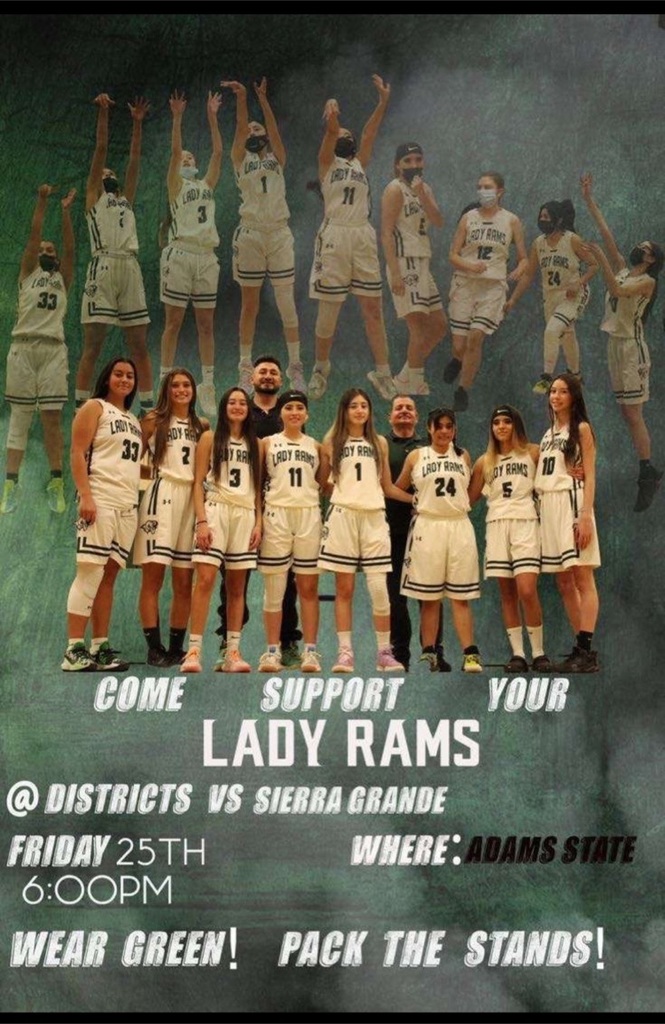 The Centennial 8th Graders will be holding a movie night at 6pm, tomorrow, Thursday, February 24 to raise money for their Washington, DC trip. Tickets are $5 and include popcorn. Other concessions will be available. The movie will be Spiderman No Way Home.
Good evening Ram Fans. District games begin tomorrow. HS Girls will play vs. Moffat at Centennial beginning at 4:30 p.m. HS boys will play vs Moffat in Moffat at 7:00 p.m. Come out and support your teams.
HS bball game vs Cotopaxi will be streamed on Cotopaxi Pirate Athletics Facebook page. Game begins at 5:30

Good morning! Homecoming skits and speeches will be today at 2:00. Families are invited to attend, but they will need to enter through the East doors by the gym. All visitors must wear masks at all times and sit in designated bleachers separate from students. Families will only be allowed in the gym. We look forward to including families for this special event.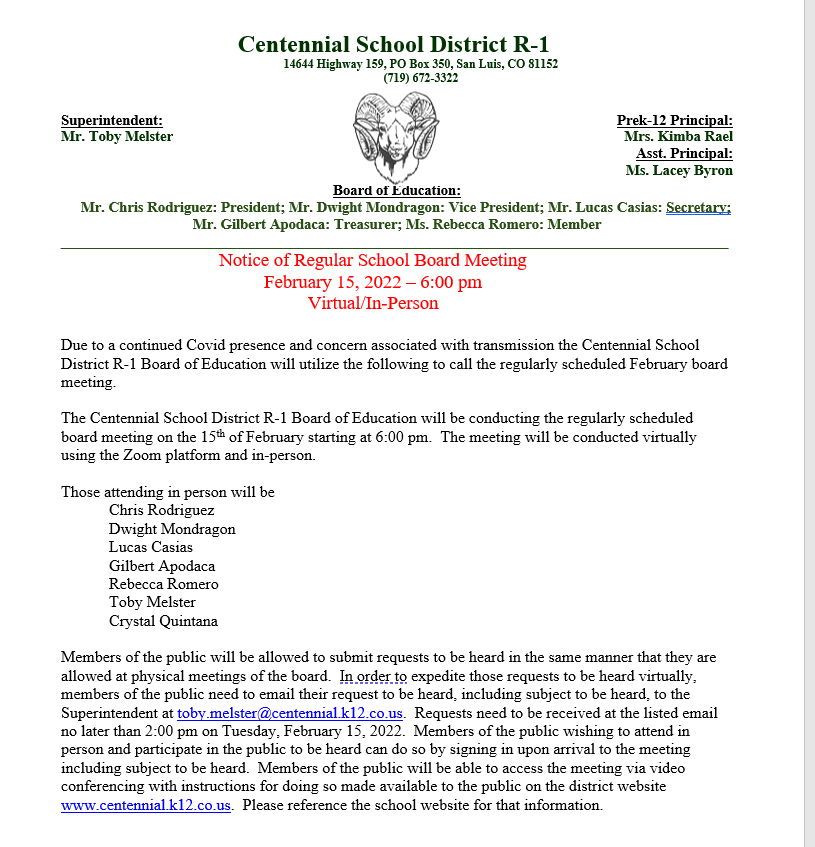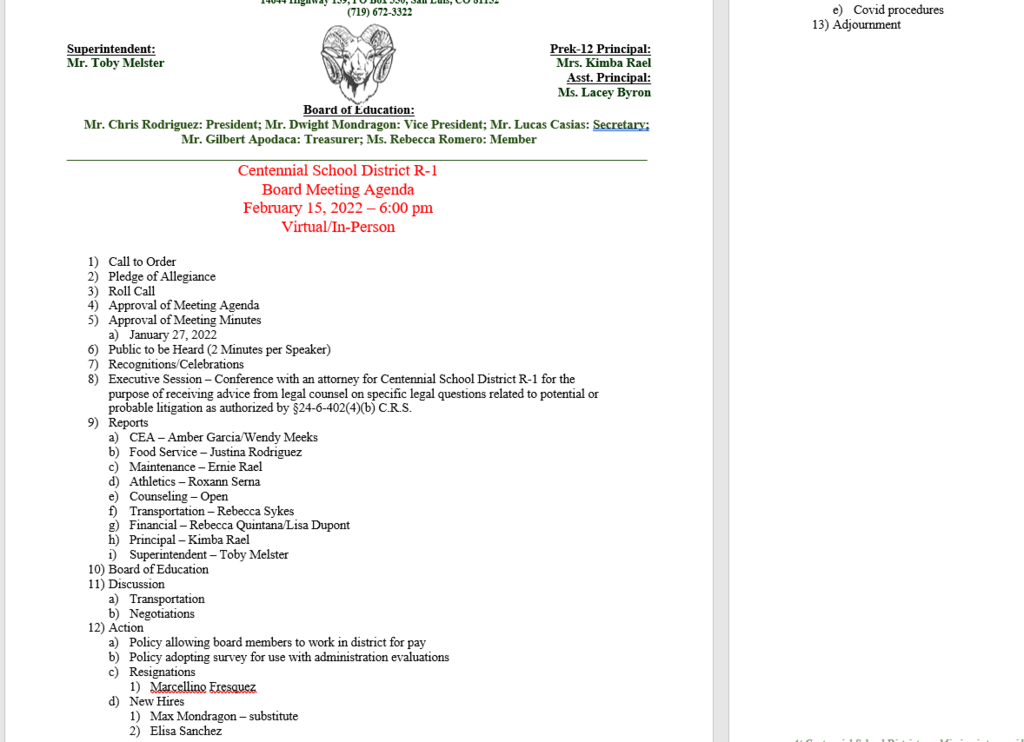 Good afternoon Ram Fans. This week's games are as follows: HS girls/ boys will play on Thursday, February 17th in Cotopaxi beginning at 5:30. On Friday, February 18th, Centennial HS boys will host Lake City at 2:00. Homecoming will be on Saturday, February 19th. Centennial will host Moffat at 5:00 p.m. Please come and show your positive appreciation for the efforts of everyone involved in these games from the players, to the coaches, to the officials. Go Rams.

Good morning Centennial families! The Board of Education will be conducting the regular monthly board meeting on the 15th day of February 2022, at 6:00 PM via zoom. The link will be send out Tuesday, at 5:50 pm.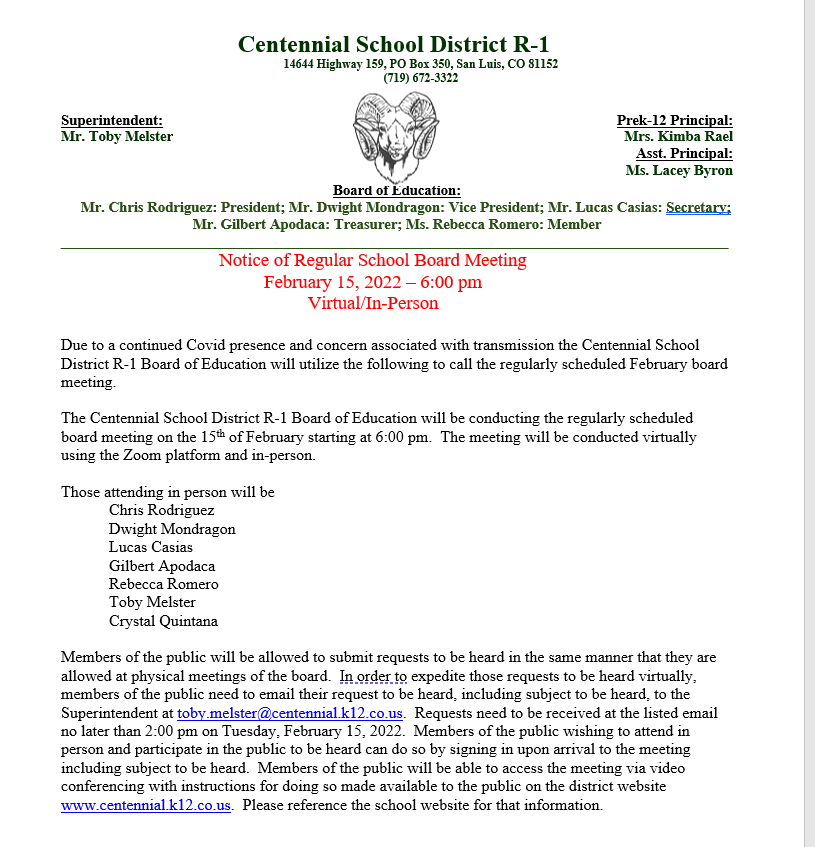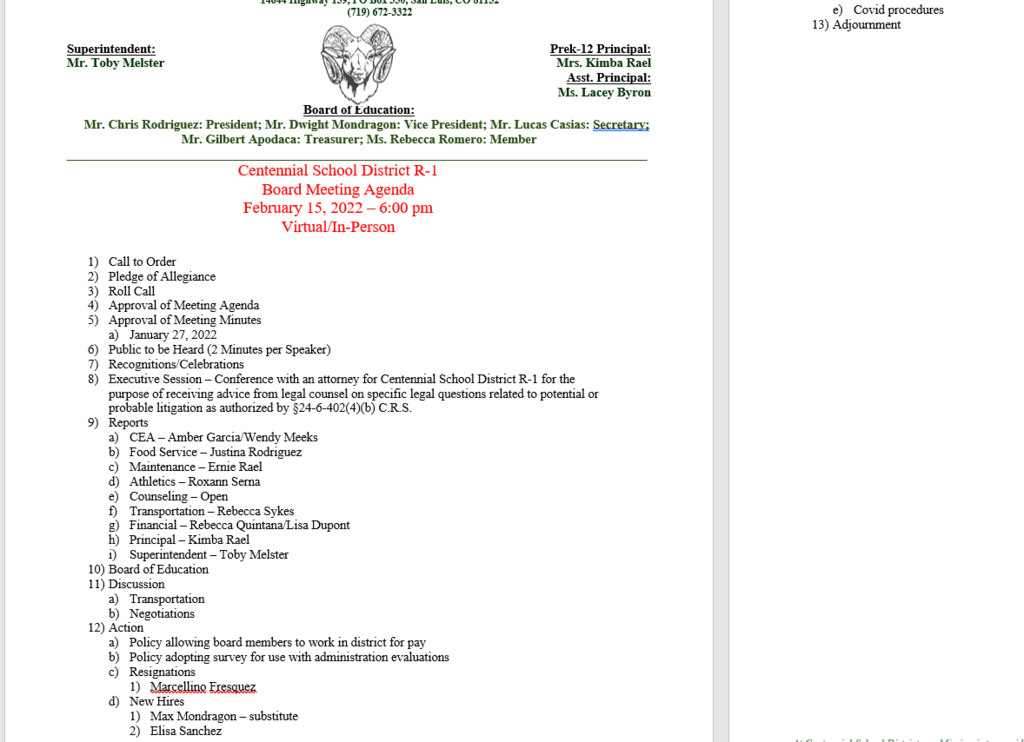 Good morning Centennial families, The Centennial Board of Education will be discussing recommendations from Public Health regarding wearing masks at school. We want your opinions to help the Board make this important decision for our school community. Please, complete this survey by noon on Tuesday, February 15. Access the survey here:
https://forms.gle/S19XjhbX1193mzp69

URGENT: Liz' route will not being running this afternoon. All students on her route will need to be picked up. We will be doing activities with them in the library until you are able to pick them up. Thank you.


Good afternoon! CEA/Centennial negotiations will begin at 4:45 today. Thank you!

Good evening Centennial families, We are canceling next week's early release for staff development. We are going to come to school for a full day on Thursday, February 17 to provide much needed in person learning time. Thank you for your flexibility.

Centennial Rams: Good afternoon! The CEA team and Administration will hold our next negotiation meeting on 2/9/22 at 4:30 PM. Please look forward to the Zoom Link on 2/9/22.
Good morning Ram families. Just sending out an update on basketball games this week. Middle school girls will be playing at Centauri on Tuesday, Feb. 8 at 5:30 followed by tournament games on Friday and Saturday in Center. HS boys will be playing Creede at Centennial on Feb 8th at 4:30. On Thursday, Feb 10th they will play Primero at John Mall HS in Walsenburg at 5:30. HS girls will be playing in Manzanola on Feb 11 at 1:00p.m. Lastly, on Saturday, Feb. 12 both HS teams will have a home game vs Sierra Grande at 5:00p.m. This is Senior/Parent Night. Come out and support your Centennial athletes

Good morning! Due to the cold, Liz' bus is running about 45 minutes late. Thank you!

Good evening Centennial families, Due to continuing snow and poor road conditions, we will be canceling classes tomorrow. We will still hold Parent/Teacher Conferences tomorrow from 2:00-7:00p. Additionally, all afternoon activities will be as scheduled, except there will be no after school tutoring. We look forward to meeting with you and your child for these important conferences. Stay warm tonight!

Attention Centennial Families, We will have an early release today at 1:00 due to the continuing snow and worsening road conditions. All students will be released at 1:00p today. All after-school tutoring, alternative classes, and athletic practices are canceled for today.