The flu/vaccine clinic for students and staff is today from 1:00-4:00. If you want your child to receive their flu shot, COVID vaccine (ages 11 and over), or COVID booster. Make sure they have their completed forms. Bring the forms by the school right away if you did not send them with your child today. Thank you.

Register for Weekly COVID Testing! Our weekly COVID testing clinics are scheduled for Thursdays from 8:30-11:00am. Students receive cash incentives by registering and testing weekly. Be sure to register before Thursday at
https://trackbynovir.com/register
Use the code: C1398.

In addition to our vaccine/flu shot clinic this coming Wednesday for students, the vaccine bus will be at the Centennial parking lot on Saturday, Nov. 6. Vaccines for 5- 11 year olds, Moderna and Pfizer boosters as well as free Flu shots will be available to the community.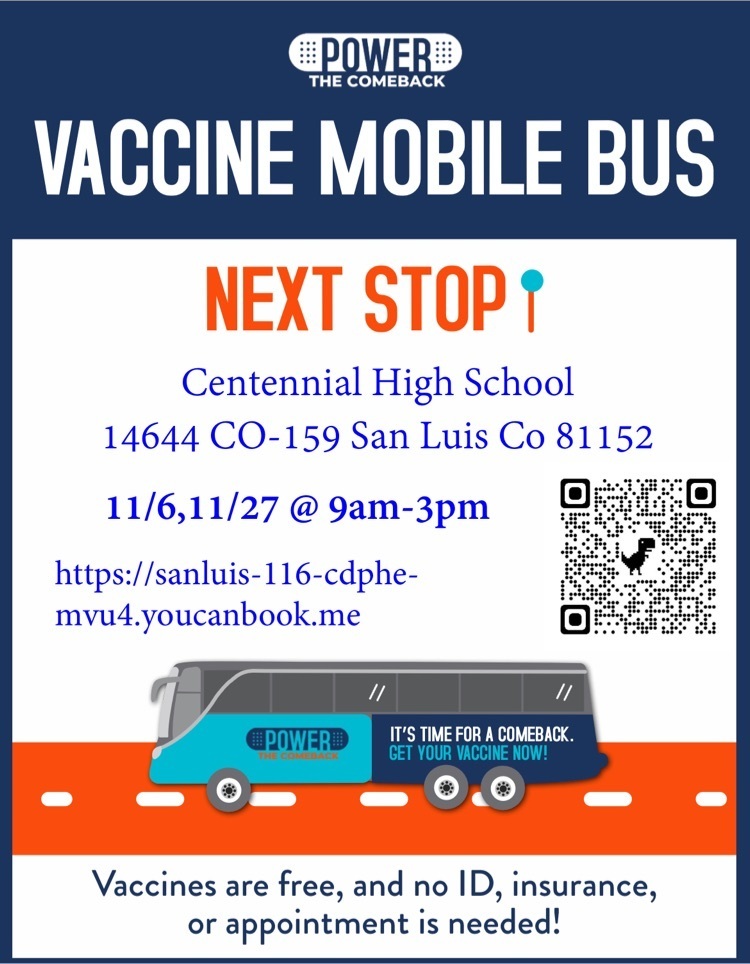 Good evening Centennial families! The Board of Education will be conducting the Regular monthly meeting on the 28th day of October 2021, at 6:00 PM via zoom. The link will be sent out Thursday at 5:45 PM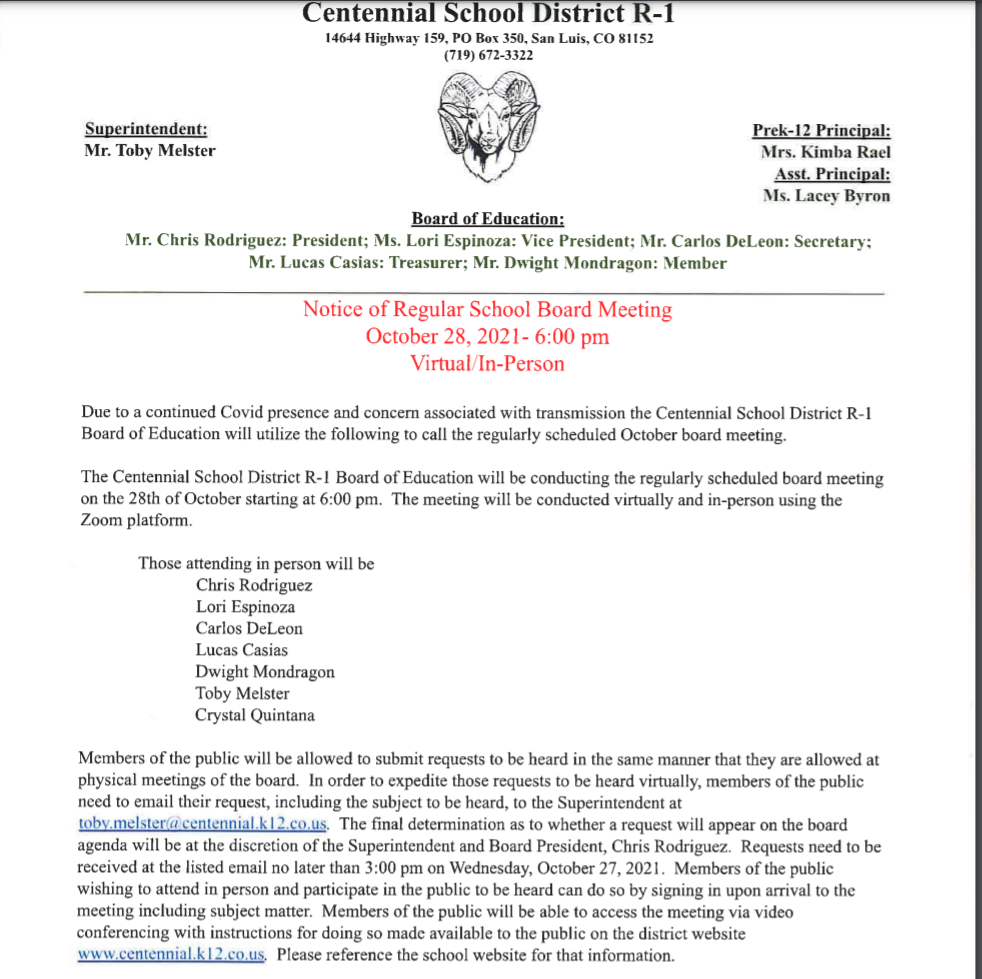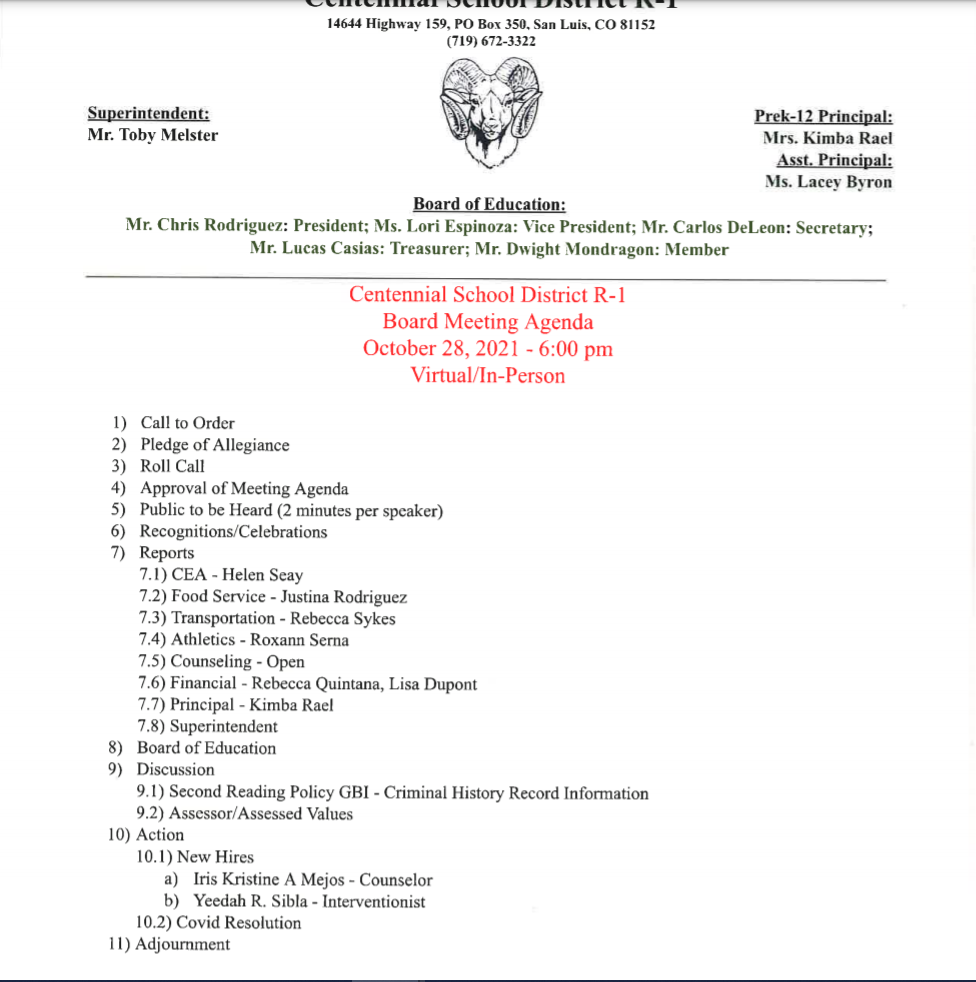 The annual Centennial Elementary Halloween Parade is back! The parade will be this Thursday, October 28, at 2:30 on Main Street. Come cheer on our amazing elementary!

Attention Class of 2022 families: At 6:00-7:30 pm tonight, Seniors and their parents can come to the school to register for financial aid through FAFSA. We have faculty from Adams State University coming to help families complete these forms. See you tonight!

Come be a part of Centennial decision making- join the District Accountability Committee (DAC)! The DAC meets every third Monday at 5:30p. We meet this week due to the recent Fall break. To join tonight's meeting at 5:30, click
https://us02web.zoom.us/j/87975536805?pwd=cHh5N2NEY1BTczZUdFE5TytneC84Zz09
Or join by phone: +1 720 928 9299 US Meeting ID: 879 7553 6805 Passcode: 314979

UPDATE: The first of our weekly COVID testing clinics is scheduled for Thursday, October 28 from 8:30-11:00am. Students receive cash incentives to register and test each week. To register, go to
https://trackbynovir.com/register
Use the code: C1398.

Just reminder that Red Ribbon Week will take place next week. Each day will be a different dress up day.


Tomorrow is the last day of the quarter, which means Preschool-4th grade do not have school. 5-12 grades have a normal day. Monday and Tuesday of next week are Fall Break, so there is no school either day. School resumes Wednesday, October 20. Enjoy this much needed break. Thanks

Tomorrow's School Board Candidate Debate is open to all families and community members. Please, enter through the side entrance to the main gym. We will be doing health screenings, and we ask that everyone wear a mask while in the building. Come get to your know the candidates!

Attention all families and students: There will be a regularly scheduled lockdown drill today at 2:30pm. This is an opportunity for students and staff to practice what to do in an emergency situation. This is only a drill. Thank you.

Attention: The Vaccine Bus will be in the Centennial Parking lot today, October 13, from 10:00am to 6:00pm. Stop by to get your first dose, second dose, or booster. Remember, vaccination is the key to slowing the spread and keeping your loved ones safe.

The students of the High School Civics Class are hosting a debate of School Board candidates for the upcoming Centennial School Board election. The debate will be in the school's main gym at 9:00am on Thursday, October 14. The community is invited to attend this special event.

Good evening! Just a reminder that tomorrow is an early release day for Parent-Teacher Conferences. Students will be released at 1:00pm. Conferences will be from 2:00-7:00pm. See you then!

Good evening! Just a quick reminder that the Vaccine bus will be in the school parking lot tomorrow from 9:00-12:00. The bus will be coming on a 3-week cycle in order to return for second doses. With the rise of COVID cases in our area, come and get vaccinated if you are not already. Thank you.


Good evening! We want to remind all families that Parent Teacher Conferences have been moved to September 30 from 2:00-7:00. September 30 will be an early release day at 1:00p for all students. Tomorrow, September 23 will be a normal school day.